AniMinneapolis provides you with a safe, exciting, fun place to make friends with people who share the same interests, as you participate in your choice of hundreds of different events. Over three days you can cosplay (optional), attend big events like concerts/dances/contests, play video games, and buy anime stuff. Because you'll be doing this among thousands of other anime fans, you're likely to meet a few cool people who like the same things and enjoy them together. Or, if you're a loner, we have some of the most epic event experiences you can imagine - exciting concerts, autograph sessions, hilarious panels and events, and much more.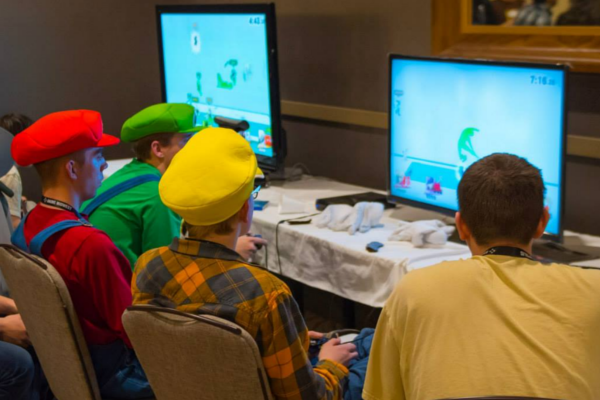 Shop from vendors in Minneapolis
AniMinneapolis features some incredible vendors selling all kinds of awesome stuff! Our exhibition hall is jam-packed with all the amazing anime and gaming stuff that you could be looking for. You can complete your collection or start a new one by shopping in our incredible dealers room and our artists alley.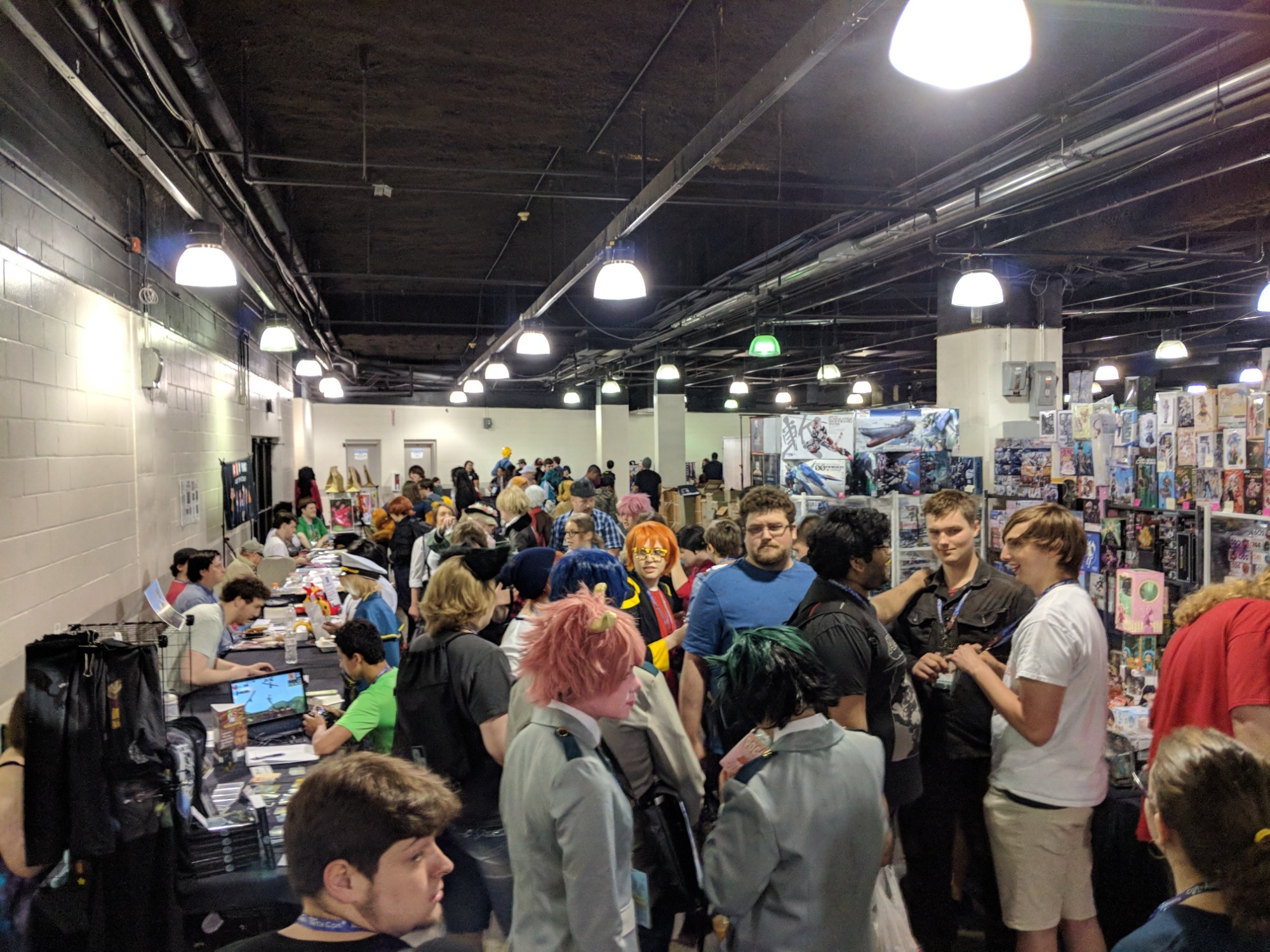 Three days of anime events.
Have you ever wondered how to tell if your collectible sword is as good as the swords in Samurai Champloo or in Rurouni Kenshin? Do you want to hear stories from behind the recording booth with some of the most famous anime voice actors on the planet? How about attending some epic musical events? We have all that and more every year at our jam-packed anime convention.
Register right now for $47.00.
Super-low full 3-day price.
You can register online, or at the convention.
Can't register soon? Here are our future prices:
$28.00
Early Bird Weekend Pass
May 9 - 20, 2022
$30.00
Weekend Registration
May 20 - Jun 10, 2022
$35.00
Weekend Registration
June 10 - Aug 10, 2022
$37.00
Weekend Registration
August 10 - Oct 10, 2022
$40.00
Weekend Registration
October 10 - Mar 10, 2023
$43.00
Weekend Registration
March 10 - 20, 2023
$47.00
Weekend Registration
March 20 - Apr 30, 2023
$49.00
Weekend Registration
April 30 - May 20, 2023
$50.00
Weekend Registration
May 20 - 28, 2023
$110.00
Ends Apr. 30, 2023
The convention dates:
May 26 - 28, 2023
One day only: $40.
Online registration benefits
:
Make sure you have a badge before we run out.
Faster check-in at the convention.
We invite more guests as more people register.
Registration FAQs
What does my registration money go towards?
Your registration fees go towards making the best convention possible. Our largest expenses every year include paying for the hotel in which to hold the convention, and the special guests that highlight the convention (including flights, meals, and hotel rooms). We use it to get our full-color 8.5"x11" program guides, plastic card badges, and pay for the technology that we rent or buy every year (computers for registration, projectors for video rooms).
What are platinum badges?
Platinum badges get you first-in-line privileges at these events: Steam Powered Giraffe Concert, The Fantasy Ball, Each Nights Rave Dance. See more.
When should I pre-register?
The sooner you register, the lower the admission price you pay. Online pre-registration is a very easy and quick way to pay. Many people register as early as possible to save as much as they can, but some also wait until they can be certain they know that they are able to attend the convention. We recommend registering as early as you can, because your early registration helps us plan a bigger and better weekend.
What do I get for registering?
Your registration gives you access to the entire anamazing convention, which includes a weekend of over 50 different events, access to our massive exhibit hall, access to our video screening rooms, access to our video gaming room, and access to everything else. At this time, none of the events cost extra to attend - any exceptions will be noted in the event description (though it goes without saying that you can buy things in the dealers room or one of our auction events). Your registration pays for the special guests of honor you can meet, technology, program books, equipment, and everything that goes into putting an entire weekend of events together. Every con event has a lot of costs such as renting the venue, renting equipment, microphones, projectors, program guides, safety staff, and your registrations make these individual events in the convention possible.
What payment methods are accepted?
At-door tickets are Cash Only, so please bring cash if you wish to register onsite. Online registration can be paid conveniently by card. Online registration does not close when the event begins, so if you want to register on the day of the convention, you can do so online.
Can I register by mail?
The only way to register is online. Online registration is much faster, and more secure, and your data is instantly entered into our registration database. HOWEVER, if you are with a school group of 10+ people and the only way you can register is with a paper check, contact us for help and we'll take care of you.
What is a badge?
A badge is a plastic/paper card with your name and registration ticket number that lets you into convention events. You can pick up this badge, with a lanyard to wear it, at the registration desk when you get to the convention. The conference badge grants access to all events of the convention, but use of the badge is subject to all terms, conditions, and rules of the convention. Attending is a privilege, and badges can be revoked without refund for violation of the rules at any time by convention staff.
Is there a group discount?
Yes, when 10 people or more register as a group (such as an anime club) you can get 10% off the current registration price per person. This happens automatically! Simply add ten people who are over 13 years old, and you'll see the discount applied. All ten registrations must be paid for together online with a credit card using the same account (or with an official school check for school groups). Email with questions.
Is there a discount for children?
Yes. Children from 7 to 12 can get a weekend badge for $10 off the price for adults, but children under 13 must be accompanied by a supervisory adult who also purchases a badge at the full adult weekend price (max 2 children per adult). This can be done online or at the door, but they must be purchased at the same time (not separately, ever). The single day price for children is the same as for adults, there is no discount for single day registration for children. Children under 7 are admitted free with the purchase of an adult registration. Children under 7 do not need to buy a badge or register. Children under 13 must be with an adult at all times.
Can I bring my mom or grandma?
Yes! They need a badge to enter convention space, but to make it easier we give you an automatic $5 discount to anyone over 40 registering with at least two relatives under 18. This discount is only valid online on weekend badges, and only if you register together.
Is there a discount for educators or teachers?
To make it easier for school groups to attend, teachers, or other licensed educators who are chaperoning a school group, can register for our convention for free by emailing us at least 35 days before the convention. We encourage groups to bring their teachers. Unfortunately since our convention reaches such a wide audience, only those individuals employed by a school/university/etc at least half-time are eligible for free admission.
Where do I get my badge?
You must pick up your badge (or register) at the registration desk, they will not be mailed. We request that you provide photo ID if you have pre-registered. There will be separate lines for pre-registration and at-con registration, please be sure to find the correct line.
How do I get registration confirmation?
We will email you with confirmation of your registration soon after registering, in most cases. Please save your PayPal receipt, as it can also serve as confirmation of your registration. You only need your ID to pick up your badge, you don't need your email (though it may speed up the process).
I pre-registered and can't make it this year, can I get a refund?
We try to have a generous refund policy. We can send you a refund, minus a $5 fee each, if the refund is requested soon enough after registering, but not when the convention is too close. We do not allow badges to be resold, given away, or otherwise transferred to other individuals. See the complete policy.
Why should I pre-register?
Pre-registration helps us estimate the number of attendees we will have, and it helps us pay for things in advance. If you pre-register, we can invite more guests, buy more food for our ConSweet if we have one, plan more entertainment, and a lot more. Oh, and you save money.
What do my convention registration costs go towards?
Your registration payments are used for a number of purposes to facilitate holding the convention, such as paying the hotel or convention center, bringing in VIP guests of honor, screenings of anime, and getting equipment used during the convention. Early registration gets a discount, as we are often able to lower costs when we can more accurately estimate the number of people attending in advance. Your registration fees also help us put a large number of hours each week into planning the event.
What if I have questions about other things?
If your question is not answered, please check our website for a section that may answer your question. Only if you can not find the answer online, you should contact us.
AniMinneapolis 2023
Hyatt Regency Minneapolis
1300 Nicollet Mall
Minneapolis, MN 55403
We are excited to bring AniMinneapolis to the Hyatt Regency Minneapolis, in the heart of downtown. We are happy to have a lot of two-bed rooms for this year! Some highlights from this hotel include:
A low rate of only $132 per night for a two-bed room. This means you can fit so many of your friends together for cheap!
A ton of event space to make the best convention ever, so that we can hold more awesome events like Karaoke and table top gaming in addition to a new massive exhibit hall.
Our ConSweet, which includes free ramen, rice, and soda. Attendees will have access to free ramen and soda all weekend, as part of their admission.
Keep in mind parking is $29 per day. Unfortunately parking is not owned by the hotel so we can't get a bigger discount.
Hyatt Regency Minneapolis
Hotel Block Status: Open for 2023.
Please Remember. Get your room early to make sure to get one at the low group rate!
Rooms Cost: $132.00+tax per night.
Tax and fees extra. $10 more per night for triple/quad occupancy.
More Hotels
Click here to book at the Millennium
We have established an overflow block of hotel rooms at the Millenium hotel across the street, for those wishing to stay nearby but not at the Hyatt.
It can be possible to get around parts of Minneapolis using the skywalk, however each section of the skywalk is owned and managed by a different building. Currently skywalk hours are fairly limited.
M-F 6:30 a.m. - 6 p.m.**
Sat 6:30 a.m. - 6 p.m.**
Sun Noon - 6 p.m.**
** Some buildings don't communicate early closings of their skywalk sections. Due to COVID-19 precautions often the skywalk is less accessible now.

Overflow / Discounted Parking
Parking at the con venue is $30/day. Due to incredibly high demand and ticket sales, we have found expanded parking options exclusively for AniMinneapolis attendees.
Click here to reserve parking downtown with ParkWhiz.
Overflow Parking Location
727 Vineland Pl, Minneapolis, MN 55403
** Connected to the Walker Art Center
Optional walking distance: 15 minutes through Loring Park
Price: $8 per 24 hours*.
Note: They advise not parking longer than 48 hours here for safety reasons. * Price may vary.
Other Parking Options
These are the main parking options most attendees utilize.
Hyatt Regency Minneapolis's Loring Ramp: $29/day
Millennium Hotel: $21/day
Parking Lot for Vendors and Large Vehicles
There is a surface lot located a few blocks from the hotel.
Address: 217 S 9th Ave, Minneapolis, MN 55402
Future Dates
May 26-28, 2023
May 24-26, 2024
May 9-11, 2025
May 22-24, 2026
May 7-9, 2027
Meet a ton of awesome special guests every year at AniMinneapolis, including performers, voice actors, directors, and more. Get their autographs for free (unless otherwise specified), meet them in Q&A sessions, and more.
Jay Hickman
Jay began his career in anime in the 1990s, when he landed his first role at ADV Films in Master of Mosquiton. Since then, he has appeared in more than 100 titles with studios including ADV Films, Funimation, Sentai Filmworks, Switchblade Pictures, Okratron 5000, and others. As a character actor, Jay has been able to voice a broad variety of colorful roles, with the occasional romantic lead thrown in for good measure. His notable credits over the past two decades are Mechazawa in Cromartie High School, Spitfire in Air Gear, Sho Zama in Aura Battler Dunbine, Shiryu in Saint Seiya, Chuu and Hammond in One Piece, Kagetane Hiruko in Black Bullet, Chief Kurama in Elfen Lied, Koji in Generator Gawl, Toru Watanabe in Excel Saga, The Fool in Kaleido Star, Crusty in Log Horizon, SSS in Madlax, Dera Mochimazzi in Tamako Market, Sanetoshi Watase in Penguindrum, Prince Mytho in Princess Tutu, and Giraffe in Revue Starlight, among many others.
Jay's voice has also been featured in live action series and films such as Dark Water, Synesthesia, Conduct Zero, The Fuccons, Touching Wild Horses, Gamera – Attack of Legion, as well as in the video game Unlimited Saga. Jay had his Toonami debut playing Dr. Stylish in Akame ga KILL!, followed by Shiro Kuramori in Parasyte – the maxim, and now Joichiro Yukihira in Food Wars!
Greg Ayres
Greg Ayres has been screaming into microphones for close to 22 years now! With over 376 credits to his name, he has managed to play a variety of characters that are almost as colorful as his hair. He is honored to return to his role of Son Goku this year in Saiyuki Reload Zeroin, having worked on the Saiyuki franchise for over 20 years. He can currently be heard as Yu Nishinoya in Haikyu, and as Chai in Shenmue The Animation on Adult swim. Some other recent roles include Chota Segawa in Alice in Borderland (OAV), Sho Utsumi in SSSSGridman, Frost in DragonBall Super, Geo in Sony Picture's Starship Troopers : Traitor of Mars, Jiro in Concrete Revolutio, Ryuuou Edogawa in Doreiku, Koji Koda in My Hero Academia, and he even makes an appearance as Popuko in Pop Team Epic.
He is proud to be a part of the new "Pink Harvest" productions from Sentai Filmworks, in the roles of Izumi Sena in Lovestage, and Yabase in Hitorijime My Hero. Some other recent favorites include Nagisa Haruki in Free, and Free Eternal Summer, MonoKuma in Danganronpa, Clear in Dramatical Murder, Doug in Gangsta, Zenji Marui in Food Wars, Ganta Igarashi in Deadman Wonderland, Heihachi Hayashida in Samurai 7, and Kouichi Sakakibara in Another. Some of his all-time favorite roles include Chrono in Chrono Crusade, Kaoru Hitachiin in Ouran High School Host Club, Youhei Sunohara in Clannad, Yuki in The Wallflower, Leo in Ghost Stories, Satoshi Hiwatari in DNAngel, Kaworu Nagisa in the Director's Cut of Neon Genesis Evangelion, Tomoki Sakurai in Heaven's Lost Property, and Negi Springfield in Negima.
Of all of his many roles, his favorite will always be the real life role of "Little Brother" to a guy with a big Sippy Cup, and an even bigger heart – who touched the world with his "Love and Laughter".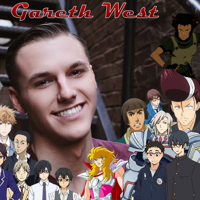 Gareth West
Gareth is an actor, model, and voice actor based out of Texas. He is known for such Anime roles as; Ittetsu Takeda in Haikyu, Seiya Takehaya in Tsurune, Kanichi Konishi in Food Wars, Haruka Shinozaki in My Girlfriend Is Shobitch, Lizard Misty in Saint Seiya, 2D in Golden Time, Akihiro Tsukaba in Chihayafuru, Tomoaki Yamagishi in O Maidens In Your Savage Season, and Dinkuron in Log Horizon. He is also currently playing the role of Jason Lee Scott the Red Power Ranger in the upcoming release Red Rising: A Power Rangers Fan Film. When not making anime voices or acting, Gareth enjoys basically anything nerdy under the sun. So whatever it is you are into, chances are you can come up and geek out. Because there is nothing he likes more than getting enthusiastic, and making new friends!
Quinton Flynn
Quinton Flynn is beloved globally as Axel/Lea from Kingdom Hearts and Raiden from Metal Gear Solid 2, 4 and Rising Revengeance (for which he received a Best Actor Award). Fans Love Flynn as: Kon in Bleach, Iruka Sensai in Naruto, Reno in Final Fantasy, Jhin in League of Legends, Timon in Timon & Pumbaa, and many others!
Quinton's Classic Legacy Characters: Micky Mouse, Spider-Man, Venom, Human Torch, Jonny Quest, Gollum and more pop up often in his solo comedic improvisational Q&A convention panels along with celebrity impressions, song and audience participation.
His impressions and sound-a-likes have been featured on Jimmy Kimmel Live! as Paul McCartney, Mindhunter as Frank Sinatra, Robot Chicken as Elmer Fudd, Draco Malfoy and Swiper The Fox, The Adventures of Billy & Mandy as Christopher Walken, The Mystery of Natalie Wood as James Dean, Cartoon Hook Ups as Deadpool
Flynn seamlessly shape shifts from the deep, sinister and sexy, mad-scientist, Dr. Krankcase – Skylanders: Trap Team, to the polite and earnest Silver The Hedgehog in the Sonic game series! And his twisted Irish hitman Sir Henry Cooldown provided the right spice in the action-adventure hack and slash video games No More Heroes 1 & 2. He also lent his vocal gymnastics to – Star Wars: The Old Republic, Avatar The Last Airbender, Crash Bandicoot, Mass Effect, World of Warcraft, Batman Arkham City Origins, Lord Of the Rings and Pirates of the Caribbean to name a few.
Flynn's Fan Favorite, the lovably nerdy Sheldon Lee, is back in My Life As A Teenage Robot on Amazon Prime! The resurgence of interest in that Nickelodeon animated gem also features Quinton as the heroic Sliver Shell and the despicable Don Prima + more than 50 other incidental voices!! So, Get In Like Flynn!
Cole Feuchter
Cole Feuchter is new to the scene but rising fast. His most notable work is on GameStop TV, a frequent content creator for ALL-IN. He's also known for his work on shows such as THE SAINT'S MAGIC POWER IS OMNIPOTENT and AKUDAMA DRIVE.
His most notable video game work includes: Legend of the Phoenix as DUGUXIN, SONG YU, and ZHEN QI, Soul Land Reloaded as WAR GOD DAI MUBAI, ZHAO WUJI, YOUNG OSCAR, and YU XIAO GANG, Full Service as LENGA VALENTINE, Camp Buddy as NAOTO HAMASAKI/ARCHER SPRINGFIELD, Mister Versatile as LASCIVION, CHEF, FISHMONGER, SHINOBI JIJI, INQUISITOR, SWISS HAND and MECHANIC in Popup Dungeon, THE SPEAKER in The Divine Speaker, MOMO in Dear Monster, and additional voices in Contra Returns. He is the English dub voice of ASAKURA in Ishida & Asakura. If you want to learn more about Cole, you can check out his Twitter @LordAzria or his website at colefeuchter.com.
Andy Field
Voice actor Andy Field is best known as the probably-friendly voice of Hand Unit, the smooth-talking computer guide through Five Nights at Freddy's: Sister Location, and the hilarious Tutorial Unit in Freddy Fazbear's Pizzeria Simulator. His catch phrase, "Exotic Butters" has evolved into hundreds of YouTube remixes – and an Exotic Butters plushie from Funko! He's also in the fast-paced sci-fi shooter Nelo and makes terrifying sounds for the zombie survival game Contagion.
As a fan, Andy will go out of his way to show up in the background of a great show. You might see him as a savior in AMC's The Walking Dead, or as a special agent in NCIS: New Orleans. And watch closely, he'll be somewhere in Avengers: Infinity War! A former middle school STEM teacher, Andy is a fan of all things nerdy and is a kid at heart. Before he was a voice actor, Andy was employed as a teacher, soldier, emergency medical technician, waiter, bartender, furniture salesman, driver, golf caddie, government contractor, college professor, small business owner, and drummer. He's still a long-time member of the U.S. Army Reserve at the rank of Lieutenant Colonel, and was deployed to Kuwait, Iraq, and Afghanistan in support of the Global War on Terror.
Kohei
Kohei, a singer from Tokyo, Japan and moved to New York in the summer of 2011. Kohei is well known for singing R&B and Soul and has performed over 300 shows in the course of four years. He has performed in the all famous Apollo theater 8 times and got first place in 2014. He has opened up for Wu Tang Clan(Raekwon) R&B Legend Case, Lyfe Jennings and Lil mama in 2015 2016. He has done everything such as hosting a music event at the Jay-Z's Moms restaurant, and being the Official Japan Fes MC. He was a finalist of McDonald's Gospelfest 2016 and 2017, and featured on M-On TV with Japanese recording artist The RAMPAGE.
Alyson Leigh Rosenfeld
Alyson Leigh Rosenfeld is a voice actor best known for her roles as Bonnie, Nurse Joy & Sophocles on Pokémon, Aina Ardebit in Promare; Strawberry Shortcake on Strawberry Shortcake; Polly Pocket on Polly Pocket; Olivia on Nella the Princess Knight; Rio Kastle, Queen, Grace & Gloria Tyler on Yu-Gi-Oh!; Siri on LastMan; LunaMaria Hawke in Gundam Seed Destiny; Kahori Harukawa in Psychic School Wars; Hansel in Secret Magic Control Agency; Joy LeFrog on Regal Academy; Musa in Winx Club; and Fraw Bow in Mobile Suit Gundam: The Origin. She has provided voices for numerous cartoons, video games, toys and commercials. She can also be seen performing theatre in New York City (most recently in the critically-acclaimed Once Upon A Mattress), and on-screen in her web series Crumbly Kitchen (crumblykitchen.com). For more info, check out her website (alysonleighrosenfeld.com), follow her on Twitter (AlysonRosenfeld), Instagram (alysonleighrosenfeld), or TikTok (@alysonleighrosenfeld).
V is for Villains
A new breed of entertainment. The intimate story. Epic visual stylings. That's what you're about to experience when getting ready for a V is for Villains concert. V is for Villains is a new breed of entertainment. Mixing the visual styles of Steampunk, Carnival and Noir, with the musical taste of Nine Inch Nails, Prodigy, and your favorite film score; V is for Villains will take you on a journey through the imagination that your mother couldn't prepare you for. Most groups often say that they intend for "world domination"… V is for Villains might actually mean it…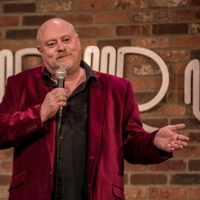 Robert L. Mungle
Robert L. Mungle is a voice actor for Funimation, ADV Films, Seraphim Digital/Sentai Filmworks, and OkraTron 5000. The Right Reverend Robert L. Mungle founded The Whiskey Brothers in 1998. Since then, while the line-up has changed, it has been his outrageously loud voice that has led the group. Mungle has taken the stage everywhere from sold out theaters to seedy strip clubs. His IMDB page boasts over 100 different anime roles, from "Ghost Stories" to "Lady Death" to "Excel Saga." He was born in Houston and you might recognize him from any of tons of anime roles, some of which include Amanojaku from Ghost Stories, Mr.8 from One Piece, Matsushita from Angel Beats, and Pedro Domingo from Excel Saga. He's appeared in Akame ga Kill!, 009-1, Broken Blade, Gantz, Halo Legends, and many others.
Kimberly Yates
Kimberly Yates' main gig is as a stage actress. Some her favorite collaborations include playing opposite Jim Parsons in The Cherry Orchard, Bradley Cooper in The Woolgatherer, Sue Galloway in Wonder of the World and her brothers in Settlers of Catan. She also loves voice acting – some titles include Evangelion:3.0+1.0 Thrice Upon a Time, Yomiko Readman in R.O.D. Read or Die, Gunsmith Cats, Burn Up!, Samarai Showdown, Dragon Night, Sol Bianca, Blue Seed. She also gets to acting coach some pretty fantastic clients including Jack Whitehall, A$AP Rocky, two time Emmy winner Tamara Braun, John Lutz and Jeff Wright.
See past guests:
Past Guests
,
2015
,
2014
,
2013
,
2012
Convention Hours
| | | | | |
| --- | --- | --- | --- | --- |
| Dealers & Artists | | | Events & Panels | |
| Thursday | TBA | | Thursday | TBA |
| Friday | 1pm - 8pm | | Friday | Noon - 1am |
| Saturday | 10am - 7pm | | Saturday | 10am - 1am |
| Sunday | 10am - 4pm | | Sunday | 10am - 5pm |
Grand Cosplay Contest
Our grand cosplay competition, aka the Masquerade, will be the best opportunity to show off your costumes and see some awesome, talented people. We have excellent judges, and wonderful competitors. We do everything we can to make your costumes look excellent. Do you want to compete? Get the full cosplay contest details first.
Learn More
Exhibit Hall
Our exhibit hall will feature some of the most awesome vendors ever, with tons of anime swag to take home. Dealers will be selling everything you can imagine, from costumes and corsets to pocky and DVDs, you'll be able to find some awesome stuff in our dealers room. We also have several artists selling their own handmade stuff, from chain-mail armor to buttons.
Video Games
Our video gaming area features 32" LCDs screens and more, with gaming tournaments happening all weekend. Last year we even had DDR machines, Pump-it-Up, and more, to give you something fun to do during downtime (like we have that!).

Tournament Information
Nightly Dances
We have several official, amazing DJs in our guest DJ lineup, including Party Monster DJs, Lucid Beats, and DJ Oso. We know how to break it down with awesome EDM dance music (hey, that's redundant!). Jumpstyle. Hardstyle. Techno. Trance. Maybe even dubstep? (If that's still cool by then). No stops and no bad DJs.
Formal Fantasy Cosplay Ball
As a special treat, our convention holds an annual fantasy ball. Admission is free to convention attendees with a badge. In addition, we will have professional formal dance lessons before the event begins, taught by an experienced dance instructor. For those without dates, we will even have our very own Date Auction on Friday afternoon, before the ball. Semi-formal outfits and above required for this exciting featured event.
AnimeCon.org's Fabulous Date Auction
Unrivaled by any other convention, AnimeCon.org's Fabulous Date Auction is your chance to win a date to the formal ball.... or several, if you're greedy. Join our sexy 15-con veteran host Dantes as they auction off other cosplayers to the highest bidder. Money goes towards improving the con, and 10% of all winning bids is donated to charity.
Concerts
AniMinneapolis features epic concerts with some awesome nerdy musicians like YTCracker. We have also featured musical intermissions and performances by other bands doing sci-fi and anime themed performances. In 2014 we excitedly feature Steam Powered Giraffe!
Maid Cafe
Our maid cafe is a fun experience similar to maid cafes in Japan - but much more suited to AniMinneapolis. Come, and be the king of your own maid world (you'll find out what this means!) (Note: Tickets can be purchased at the con. Snacks are included.)

Apply to be a maid or butler here.
Panels
AniMinneapolis has tons of panels, submitted and created by attendees like you. Talk about favorite shows, compete in homemade game shows, learn stuff, and more! Everything you love, from Lolita and Dolls, to Homestuck, Hetalia, and Pokemon, we'll have it. Panels can be run by fans about their favorite subjects, they could be organized by our staff, or they could be hosted by our very own guests of honor. Want to run a panel? Go to the event submission page.
Cosplay
We are excited to feature tons of cosplay events, in addition to the mainstage masquerade cosplay competition, including photoshoots, meetups, panels, and much more. We schedule meetup/photoshoot times for different fandoms to gather in their outfits, and we have a hall costume contest you can compete in to win free admission for next year. If you are looking for the masquerade, check out the cosplay info page.
ConSweet
We provide a wonderful ConSweet filled with free snacks, ramen, and rice all weekend. To help you get through the convention filled with energy, our ConSweet provides congoers with unlimited rice, ramen, and soda throughout the entire weekend. Please clean up after yourself.
Meetups
Meetup with people who like the same stuff as you. Whether it's Ball Jointed Dolls, Lolita Fashion, Kingdom Hearts, J-Pop, or whatever, you'll make friends here.
Autographs
We have a ton of awesome guests and of course you can have their autograph. Autographs from most of our special guests are free, so bring your favorite DVD to get signed (no bootlegs, please). Every year we try to have a list of guests that you may not otherwise ever get a chance to meet, so we hope you'll come out and say hi to them!
Tabletop Gaming
We are very proud to feature Flame Point Games as the host to our tabletop gaming room. Here you will be able to playtest and purchase games that are published by local Minnesota companies. Check out Flame Point Games website to learn about some of their games!
Anime Screenings
Every year AniMinneapolis has a room dedicated to streaming anime. This is a chance to relax and catch up on what's new in the world of anime, or even discover a classic show that you might fall in love with.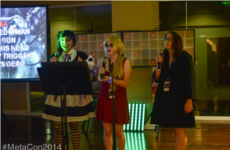 Karaoke
Karaoke is huge in Japan and we think it should be a staple at conventions too. Come to the Karaoke Krypt and sing with your fellow anime fans. We have a huge library of music for you to choose from. Be sure to come by and hang out with us. Sometimes we will be playing AMVs before Karaoke sessions start.
Room Parties
Room Parties are not official events of AniMinneapolis. Attendees can host parties in their hotel room during the convention. These are often fun social or anime-themed events. Learn More.
Credits Remaining
Credits Remaining: Chicago's largest convention arcade provider. We specialize in providing Midwest conventions with superior arcade machines, blending classic American Arcades with Japanese rhythm games. Featured favorites are: House of the Dead, Jubeat, Marvel vs Capcom 2, Nostalgia, and everyone's favorite— Dance Dance Revolution! Join us at conventions across the Midwest! Check them out at a convention where you can enjoy all sorts of arcade games, dance games, music games, and more, in the convention's gaming room!
Events run from Friday 10am through Sunday around 6pm. Want to run an event?
Click here for details.
Panels and Other Stuff
Every year we have a ton of panels submitted by attendees, in addition to panels and events that are run by our staff. The actual full list will be published about a month prior to the convention, and it usually includes over 100+ events.
Formal Ball and Dance Lessons
Panels about shows like Pokemon, DBZ, Yu-Gi-Oh, Etc
Often we have Pokémon Tournaments
Yaoi and Yuri or other 18+ Panels
Our fabulous Date Auction
ConSweet with free ramen, Mountain Dew, Etc
Voice Acting Lessons, Tips, Etc
Lolita Fashion, BJDs, and other cultural panels
Karaoke and AMV Showings
More panels and events are being added regularly. Do you want to run one?
Click here for details.
Vendors please note: In 2023 there is a group before us on Wednesday, so please do not arrive for vendor/artist setup before 4:30pm on Thursday.
Vendors for AniMinneapolis 2023
Cardz Xtcetera

40x10

SW INC

40x10

Dongtu Datang

40x10

Gallery Panda

40x10

Far East Emporium

40x10

Lunar Toy Store

40x10

Bladedaddy

40x10

amer

40x10

Cardz Xtcetera

30x10

Dad Toyz

30x10

Anime Haus

30x10

Purple Plum Inc

30x10

DC-IMPORTS

30x10

Culture

20x10

Brendan Mignogna

20x10

Jedi Master's Toys & Collectibles

20x10

Roxie Replicas

20x10

Bakken Cosplay

20x10

Sakura's Blossoms

20x10

Samurai soda

20x10

Jukebox Imports

20x10

CJ Autographs

20x10

Elysium Armory

20x10

Loyal K.N.G.

20x10

Neon Culture

10x10

The Pin Siblings

10x10

King Designs 26

10x10

TeeTurtle / Unstable Games

10x10

Clay Me Cuties

10x10

E.Moore Art Studio

10x10

The Geek Boutique

10x10

Savvy Jensen Art

10x10

PokePalooza

10x10
Artists at AniMinneapolis 2023
Actoons Illustration
Ai Mochi Arts
Art by Paul Bautista
Art By Quinton
AstroManatee Shop
Baby Noodle
Blulious
BoringGalaxy
Briar and Spindle
Brownrabbits.org
Chelbizzaro Illustrations
Clarinda's Ink
Clover Bun
Cloverlily
Crooked Nose Arts
Custom Processing Unlimited
Dreaming Dragon Studio
Estudio Fermín
Fallen Star
grapehoney
Happime Sinome
Interstellar Dice
JBlake Design
Jimbobox
Kahori Creations
Kasey Saus
Kelsey Matcha
Love Rainie
LucidSky
Maracuyas Art (LavenderIce)
Milkstreetstudio
Mythical Menagerie
Nali_Nadir
NC ILLUSTRATION
OkeySyd
PinkApple Arts
Pitchgold
pixel3ree
Prismafire Studio
Sagemoon Arts
Sarah Vara
Scout Bennett
Sculptural Renaissance
Sophia Strawberrie
Space Dey
Spacetoad
spicytunaa
Spooky
Spoonwood Visuals
SpoopySamuel
Studio Paigy
supahhnan
The Art of Jeremy Provost
The Chibi Philosopher
The Starrkeeper Cafe
ToriKat Studios
WolvenFlower
Wooperworks
xoaiu
YUGAN
Yumi Nee and Ayase Sama
zukululuu
The AniMinneapolis Dealer's Room is an epic place to find all your favorite
anime
merchandise. Vendors will be selling things ranging from custom-made outfits, to plushies, to DVDs, to comics, and everything else in between.
Photography is generally not permitted in the dealer's room, to prevent people from stopping in the middle of aisles and making it hard to get around. Excessively large props will typically not be allowed in the dealer's room. AniMinneapolis enjoys giving attendees the flexibility to bring most reasonable sized props (smaller than you) into the vendor room, and we ask that you respect other attendees by being mindful of props and large costume pieces.
For additional information about becoming a dealer,
click here
.
The artist alley is a place to meet artists, buy handmade crafty-things, see beautiful works of art, get commissions, and buy cool artsy things! Come to the AniMinneapolis artist alley to see some really cool and unique art works, and possibly even commission your own.
Becoming an Artist Alley Participant
All of our artist alley tables are sold on a first-come-first-serve basis unless we are given other reason to reject you (ie: previous rule-breaking). Tables will be 6'x30", depending on what the hotel has available. This is subject to change in future years.
Artist's Alley Policies
Any objectionable content must be limited to viewers 18+ with proper identification. Anyone found selling objectionable content to minors may have their table revoked.
Artwork must have significant originality to meet copyright laws. EG: eyeballing or tracing artwork and selling it is not permitted.
Work that is not created by the table owner (manufactured plushies, buttons, etc, that you didn't make either yourself or in collaboration with another) can not be sold as an artist - these are items that only dealers can sell.
Only two chairs are allowed at each artist alley table, and your work must not exceed the space allotted to your table. While multiple artists may share a table, they must not exceed the space allotted.
Artist's Alley is going to be in a room that is locked at night.
We are not responsible for anything lost or stolen.
Rules may be amended or altered by AniMinneapolis staff at any time, and decisions by AniMinneapolis staff are final.
Any questions can be directed through our
contact form
.
COMPLETE RULES and HOURS: are the same as
the rules and hours for dealers
.
For Potential Artist Alley Members
By registering online, you agree to these terms and conditions.
Electricity is $75.
Check this page to see if space is available.
Click here to get notified
whenever tables become available.